With Father's Day on the horizon, you may be looking for some unique gifts for your dad who loves fishing. But anglers are so particular with their rods, reels, lines, and lures, what could you buy them? If you're asking that question, this article is for you!
Below are 4 gifts that you can get any fisherman in your life that they likely won't think of buying themselves. But they're all gifts they'll be very thankful to have. And all of them come in under $100 which means you won't break the bank either!
A pair of polarized sunglasses are great gifts for summer anglers
I know it seems silly, but a good pair of polarized sunglasses can actually make a world of difference when you're fishing.
If you look into the edge of the water on a sunny day you can see a good few feet. But after that the sun is pretty blinding from the glare and reflection off the water surface.
Get a pair of polarized sunglasses though, and you can see much further and deeper. Meaning you can see fish, rocks, grass, all sorts of things that give a fisherman valuable information. 
The sun's rays gleaming off the water's surface can also do real damage to human eyes over extended periods of time. Say, like, a week long fishing trip. So not only will buying your fisherman a pair of polarized glasses make them better fisherman, it will also protect their health.
This is one area you don't want to skimp. Sure, you can get some gas station glasses for cheap but they aren't actually going to do much. Trust your name brands and know paying an extra penny for something that will last a lifetime is worth it.
Costa Del Mar and Oakley are the two biggest names in this space and they have some options under $100 that I would recommend like this. But Bass Pro Shops and other vendors are often having sales on even top brands. Especially around Father's Day. So shopping sales can really benefit your wallet.
Get your bank angler a tackle backpack as a gift
If you're buying for an angler that loves to pond hop or doesn't have access to a bass boat – then a nice tackle backpack is a great option.
Tackle boxes are great for storing large quantities of baits but they aren't the easiest to carry when you're fishing from the bank. Especially if you want to sneak up on the big ones living in farm ponds. So switching it out for a backpack you can easily throw on your back is a great option.
And options for backpacks are greatly increasing. You'll find backpacks that have multiple compartments and can hold hundreds of lures. 
However, remember that a fisherman has to carry everything on his back for hours at a time. You don't want to get the biggest backpack, you want the one that will fit what is needed and is easy to carry around.
Which is why I recommend the Plano-A-Series 2.0 Backpack. It has a great design that makes it comfortable, easy to pull baits from, and holds everything you really need to go bank fishing. 
Plus, it comes with all the utility trays and internal compartments that an angler needs so you won't have to buy anything else or give a gift that requires more purchasing along the way.
It comes in at only $79.99 so it's well within the $100 budget. So read this article that discusses how to fill out your tackle backpack for bank fishing and you can find a few extra pieces to throw in to really put your gift over the top!
A Mystery Tackle Box subscription for the fisherman who needs more lures
Picking out lures for a fisherman is extremely difficult. Many anglers find baits they know and love and never want to change. And if you aren't into fishing, how can you possibly know what the best baits to buy are?
Well that's why you should leave it up to the professionals and buy your fisherman a Mystery Tackle Box subscription. 
Mystery Tackle Box is a service where you pay a fee to receive a box full of baits every month. The best part is when you buy it as a gift, the angler will get to tell Mystery Tackle Box their fishing style. And MTB staff will pick out the right baits for them!
This is the best gift you can buy an angler who is new to fishing as well as it exposes them to a lot of fishing lures that actually work. So it allows them to broaden their knowledge and maybe find a new favorite bait.
Plus, it's a fun surprise you get every month so it's not just a one time gift. It's like you're giving multiple gifts every month!
Visit the link here for their gifting options and you'll have a variety to choose from under $100. Personally, I think 3 months of the MTB Pro Box is a great option as it gives them the most amount of baits of all options. And it's 3 months of lures they have to look forward to!
Rain gear for the fisherman who doesn't mind bad weather
If you're buying for that fisherman that doesn't know when to quit fishing, even when it's pouring down rain, then you should seriously consider some good rain gear.
And I can't blame them. When that bite is right sometimes you have to just keep fishing. So make sure they're protected and don't get sick when they're pulling in fish during the next rainstorm.
You'll find a lot of high quality rain gear is extremely expensive, so to keep it under $100 I will recommend the Bass Pro Shops HPR II BONE-DRY line which has bibs and jackets available.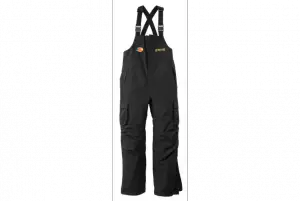 The series is made from 100% polyamide, commonly used material in waterproof gear. It also comes with a hood that easily covers your head and can be pulled tight with one hand – in case your other is on your rod. 
They also include zippers on all pockets so that you can store anything that can't get wet and not fear for it's safety. Reviews also commend them on their durability, not something you get with all rain gear. 
Depending on size and color options, you may be limited to only bibs or jackets but I do recommend buying both if available. A dry top with a wet bottom isn't great and the other way around isn't either. 
Having the matching set is ideal. But if you're on a budget, I recommend the jacket over the bibs.